Filing a Complaint
Ontario Ombudsman has the authority to investigate concerns about a Children's Aid Society. If you have not been able to resolve your concerns in other ways (i.e. as described above), you can contact the Ombudsman's Office.
Click here for a printable PDF version of the Ombudsman complaint form
Your Legal Rights
Equity Statement – June 2020
Windsor-Essex Children's Aid Society Equity Statement – June 2020
Financial Statements
Strategic Plan
Operational/Service Plans
Annual Reports
Broader Public Sector (BPS) Directives and Policies
Procurement
Ontario Broader Public Sector (BPS) Supply Chain Code of Ethics
Our Agency follows this Code of Ethics:
Personal Integrity and Professionalism — Individuals involved with Supply Chain Activities must act, and be seen to act, with integrity and professionalism. Honesty, care and due diligence must be integral to all Supply Chain Activities within and between BPS organizations, suppliers and other stakeholders. Respect must be demonstrated for each other and for the environment. Confidential information must be safeguarded. Participants must not engage in any activity that may create, or appear to create, a conflict of interest, such as accepting gifts or favours, providing preferential treatment, or publicly endorsing suppliers or products.
Accountability and Transparency — Supply Chain Activities must be open and accountable. In particular, contracting and purchasing activities must be fair, transparent and conducted with a view to obtaining the best value for public money. All participants must ensure that public sector resources are used in a responsible, efficient and effective manner.
Compliance and Continuous Improvement — Individuals involved with purchasing or other Supply Chain Activities must comply with this Code of Ethics and the laws of Canada and Ontario. Individuals should continuously work to improve supply chain policies and procedures, to improve their supply chain knowledge and skill levels, and to share leading practices.
Current Procurements
Request for Quote #2022-23-001 – Grounds Maintenance and Snow Removal – due on or before 4:30PM, August 31, 2022
Protection Services

Performance Indicators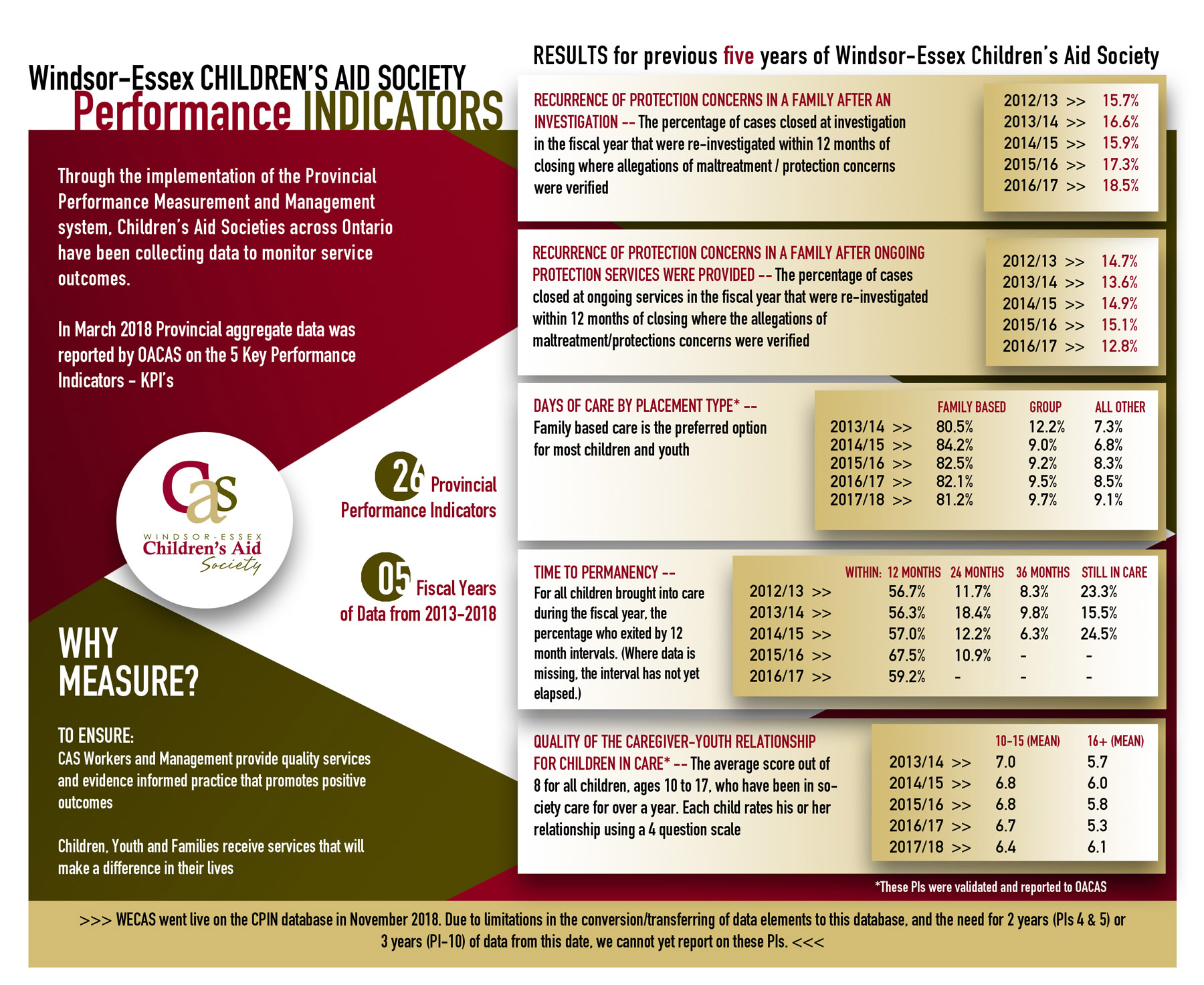 Class Action On Behalf of Crown Wards
The Windsor-Essex Children's Aid Society is governed by a volunteer Board of Directors who share a commitment to the well-being of children and families. The role of the Board of Directors is to ensure the on-going sustainability, credibility and ability of the organization to realize its Mandate, Vision, Mission Statement and Values & Guiding Principles.
Board meetings are held ten times throughout the year. If you wish to attend a meeting and/or address the Board, please contact the Executive Assistant in writing, identifying the topic, rationale and speaker(s) at nluepann@wecas.on.ca