Program & Resource Areas of the Bill & Dot Muzzatti Child & Family Centre
---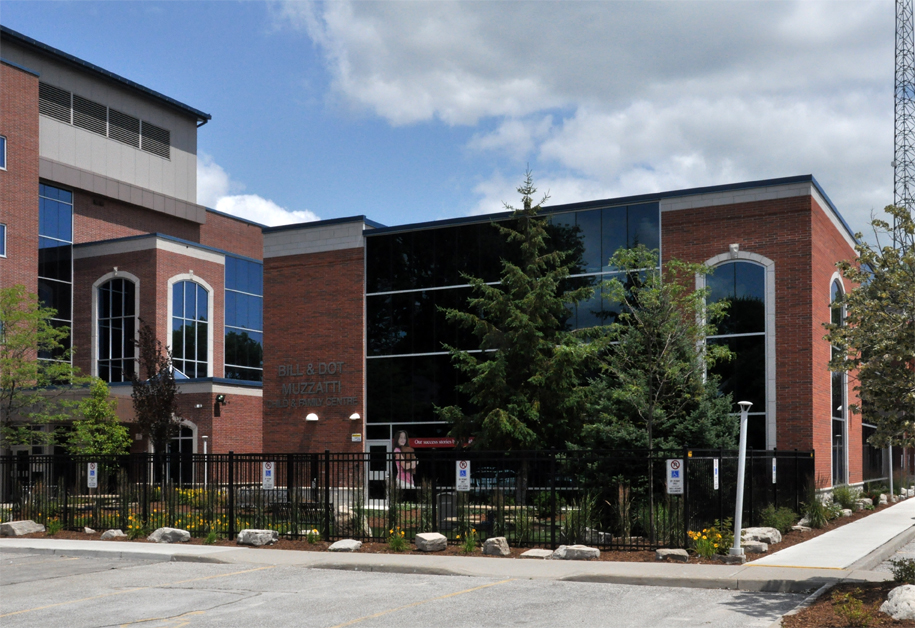 Child & Family Access Program 
This Program is responsible for supervising visits between biological families and their children who are in care. The program operates six days a week and conducts approximately 40 visits per day. Access visits are approximately one to six hours in length and can be from one to five days per week. These client situations are generally before the courts and access arrangements are a part of the court order. There are also Kin client situations that are not before the courts but are arranged for the child(ren) to maintain a relationship with other family members.
The Benefits Company, Farrow, Milava and Sfera Architectural Associates Infant Nurseries
The Infant Well-Being Wing has four individual nurseries which have been designed to promote positive bonds between parents and their infant children. The rooms provide a warm home atmosphere and an environment nurtures and enhances the parent-child bonding experience. Parents are shown how to properly feed, change, bathe and play with their infants. The Infant Well-Being Wing is a much needed space where parents learn how to properly care for their infant. Moms and dads are able to interact with other parents, fostering good relationships and providing encouragement to one another.
The Solcz Family Infant Coaching Area 
This area, within the Infant Well-Being Wing, provides a safe, nurturing space where parents interact with their infant children in a supportive, infant friendly atmosphere. It includes a living area with couches, chairs and a television. It includes age appropriate toys and provides opportunities for the parent and child to utilize play and feeding time, interactive toys and allow for the teaching of the parent to interact with their child to enhance development skills.
Farrow Infant Servery

The infant servery area is utilized to provide coaching opportunities for families. Parents visiting with their infant children are able to use this area with the support of the staff in a 'home-like' environment. In doing so, parents develop the skills needed for preparing meals and feeding their children. Healthy eating habits are stressed beginning at the earliest stages of development.
Stephanie & Barry Zekelman Foundation Toddler Enrichment Access Area
This new, bright and child friendly area was designed as a 'family room' space with comfortable couches, soft chairs and coffee tables. We also included a kitchen table with chairs so families can enjoy a home prepared meal promoting positive interactions between parents and their children. The area also contains age appropriate educational toys that encourage conversation and learning. Optimal education takes place when young children are allowed to learn within a low stress environment. Children make connections when they touch, think, discuss, eat and interact with each other in an enriched learning environment where they have opportunity to be physically, socially, and intellectually immersed in learning.
Clarks LLP and Bruce & Anne Horan Family Access Observation Areas 
This observation area is equipped with the latest state-of-the-art equipment, allowing workers to non-obtrusively observe parent-child interactions for the purpose of enhancing appropriate and positive parenting skills. Workers have ample room in this viewing area to supervise a family's visit through a one way glass window. This is often the least intrusive visitation option as it allows families to interact with minimal staff intervention. It also allows for an ideal situation for parents to be observed by other professionals and that information can be used to enhance and develop their parenting roles.
Child and Youth Access Room 
This area was designed to provide access to two to three families with older children. The room has space for lounging and a dining room set up for more formal sharing of meals. This room includes TVs, DVDs and game consoles, with activities geared to teens. Parents are able to spend quality time with their child while participating in engaging activities. The atmosphere is relaxed, comfortable and inviting.
High Risk Family Rooms

The families that utilize these rooms have been engaged in high-risk behaviours. The visits held here are observed by workers in the Parent-Child Access Observation Area. This area allows the workers to have the ability to both visually and audibly supervise access visits behind an enclosed area. Workers are able to quickly intervene to protect children and still provide the parents an opportunity to have a positive visit with their child. The access rooms include televisions, DVD players and age appropriate toys. Once families achieve a measure of success they graduate to access within the Toddler Enrichment Access Centre or the Child and Youth Access Room depending on age.
BMO Bank of Montreal Family Kitchen

The kitchen on the first floor is centrally located where families can prepare snacks and meals together. Fully equipped, this kitchen also serves as a teaching area for families.
Freedom 55 Financial Volunteer and Foster Parent Room
Volunteers are at the heart of much of the work that takes place every day here. We believe they are a valuable asset and a vital link in the delivery of services to the children in our community. Volunteers contribute thousands of hours, expertise, support and compassion to our programs. The Volunteer and Foster Parent Touchdown Area is a comfortable lounge for volunteers and foster parents to wait while picking up children and youth visiting the program. This space is dedicated to all who support our programs and the needs of our children and families.
Emilia Rossi Children's Play Area
This outdoor space is a relaxing landscaped play area enabling children to express themselves in an outdoor environment. There are benches and picnic tables encouraging conversation and interaction between parents and children. The area is designed as a 'park-like' setting and allows families to relax and enjoy each others company.
The Windsor-Essex Children's Aid Foundation Learning Centre
The second floor of the Bill & Dot Muzzatti Child & Family Centre includes a variety of rooms and areas that are designed for teaching and building life skills, enhancing the quality of family life as well as strengthening the skills and spirit of the children and youth that the Society serves.
Youth Advisory Committee (YAC) Resource Room
YAC continues to play an active role at the Agency. They have their own space, enabling the youth to make use of computers and connect with each other in their ongoing work to inform and reach out to other youth. Our YAC committee consists of crown wards who promote advocacy for our youth as well as encourages self-esteem, and higher aspirations for their peers in care.
W. Garfield Weston Foundation Family Teaching Kitchen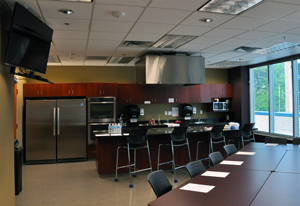 The teaching kitchen includes all major appliances and has an abundant amount of cupboard space. This beautiful, large kitchen area enables parents to either bring in food from home, as well as prepare simple meals with families to enjoy during visits over the lunch and dinner hours. The dining area is adjacent to the kitchen space. It provides a space for families to sit together and enjoy themselves in a family friendly environment. The ability to teach life skills related to cooking, food preparation, and grocery shopping, laundering etc. to older children as well as to the parents instills in them the importance and advantages of healthy eating.
Circle of Seven Terrace
A comfortable outdoor extension of the Family Teaching Kitchen, the Terrace provides a comfortable space for families and small groups to gather for conversation, to share a meal and interact in a secure setting. Comfortable patio furniture provides a home-like environment for enjoying the outdoors while still having all of the amenities of a full kitchen.
TD Canada Trust Family Well-Being Rooms
The Society has developed a program supported by RBC, Royal Bank of Canada, to provide an intensive intervention in families where children are at risk of coming into care or parents requiring parental education or specialized supports.
The goal is to maintain children in their home as well as to improve their well-being. Short-term services, generally up to 90 days, are provided to families, by staff trained as Child and Youth Workers. The referrals to the Family Well-Being Program are often neglect situations and/or families experiencing conflict with their adolescents.
This programming space is used for life skills training focusing on strengthening families, as well as access visits.
The Family Well-Being Programming Space, the result of the generosity of TD Canada Trust, is key in terms of promoting positive parenting skills with the goal of reuniting families.
A. P. Plasman Homework and Tutoring Room
A room devoted to mentoring and teaching children and youth, this is the prime location of the successful Tutor/Homework Club. This quiet space was designed with learning in mind. Realizing that education is the key component in changing lives, this room is a vital area for creating energy around learning. Much of the technical equipment including iPads and a Smart Board are gifts from the Green Shield Canada Foundation.
Children's Testimonials
"My tutor taught me to show my work so the teacher can see how I get to an answer. This helped me a whole bunch and my marks have gone up."
"My tutor helped me reach my goal which was to be on the honour role in grade 8. And I made it!!!"
"I know I am getting better because my marks are better. Last year I got an A in art now I have an A in math!"
"The Homework Program makes things simpler for me. In school I get nervous and confused, it looks hard but then the tutor shows me how simple it is."
Unifor Local 444 Music and Art Therapy Room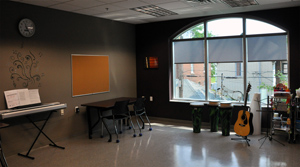 We provide a music program which is facilitated by a Music Therapist. This sound proof room enables children and youth the ability to express themselves through various media associated with the arts. It allows those with autism, behavioural management issues and low self-esteem to participate in enrichment programs that promote creativity and confidence. The room is equipped with art supplies, musical instruments and equipment that stimulates interest and expression.
The children and youth in this program have participated in concerts, and this program has provided outcomes for children with respect to their self-esteem, social competency and overall well-being.